Chinese police in crackdown on 'online jihad'
By Katie Hunt and Feng Ke, CNN
October 9, 2013 — Updated 0821 GMT (1621 HKT)
STORY HIGHLIGHTS


Police in Xinjiang arrest 139 people for spreading religious extremism online


Arrest comes amid wider crackdown on internet rumors in China


Ethnic tensions exist between Han Chinese and predominantly Muslim Uyghurs









(CNN) — Police in the western Chinese region of Xinjiang have arrested 139 people for spreading religious extremism online, officials and state media said, amid a wider crackdown on internet rumors.
A spokesman for the Xinjiang government, Luo Fuyong, said that local police had gathered around 900 pieces of evidence of online rumor spreading and arrested at least 256 people.
Of those, he said 139 had spread rumors about jihad, or Muslim holy war, mainly through posting videos that showed violent terrorist attacks or taught viewers how to create bombs and explosive devices.
"Jihad and terrorists are the enemy of all human races," Luo said.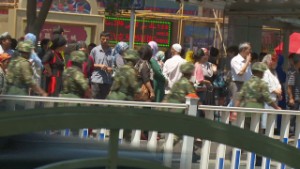 Tensions in western China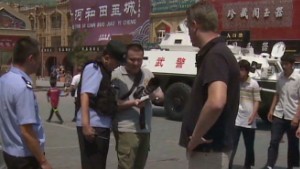 Urumqi on edge before deadly anniversary
The report did not say whether those arrested were Han Chinese or Uyghurs, a Turkic-speaking predominantly Muslim ethnic group.
The arrests were made from June 26 to August 31 following an outbreak of violence in the remote township, about 250 kilometers southeast of the regional capital Urumqi, that left 35 people dead.
Frequent outbreaks of unrest have hit Xinjiang, a resource-rich region where the arrival of waves of Han Chinese people over the decades has fueled tensions with the Uyghurs.
They complain of discrimination and harsh treatment by security forces, despite official promises of equal rights and ethnic harmony.
Beijing has found it useful to portray such tensions as the result of outside interference, attempting to cast separatists as part of a global terror network since the 2001 World Trade Center attacks, said Nicholas Dynon, a researcher at Macquarie University in Australia.
This strategy undermines sympathies at home and abroad for legitimate grievances of the Uyghurs, he added.
"Conflating international terrorism with domestic separatism is way for Chinese authorities to leverage support for their own issues."
The arrests in Xinjiang come amid a nationwide crackdown on online rumors that critics have said is a way for the government to squash dissent.

Part of complete coverage on
October 7, 2013 — Updated 0907 GMT (1707 HKT)

International golfers were choking on the greens in Beijing over the weekend — but it wasn't due to an outbreak of the yips.
October 7, 2013 — Updated 0558 GMT (1358 HKT)

CNN's Jaime FlorCruz looks back to his Beijing university days when he took classes with three men who have had a big impact on today's China.
October 7, 2013 — Updated 2356 GMT (0756 HKT)

Courtesy of the U.S. government shutdown, China's president finds himself in the box seat at his first APEC forum.
October 7, 2013 — Updated 0756 GMT (1556 HKT)

China employs two million people to police public opinion online, outnumbering the country's armed forces.
October 6, 2013 — Updated 0726 GMT (1526 HKT)

An oil painting by Chinese artist Zeng Fanzhi has sold for $23.3 million at an auction in Hong Kong – a record price for Asian contemporary art.
October 4, 2013 — Updated 2136 GMT (0536 HKT)

A thumb-sized wasp with an orange head has killed dozens of people in China and injured more than 1,500 with its powerful venomous sting.
October 4, 2013 — Updated 0024 GMT (0824 HKT)

Chinese tourists are told how to behave overseas as the country's first tourism laws come into effect.
September 25, 2013 — Updated 1109 GMT (1909 HKT)

Does China's Communist Party care more about preserving unity than public opinion? One commentator says yes.
September 24, 2013 — Updated 0701 GMT (1501 HKT)

China's urban rich are making far more than they officially report, suggesting the wealth gap in the world's second largest economy is much higher than previously thought.
September 10, 2013 — Updated 0334 GMT (1134 HKT)

Guangzhou has announced it has taken the first concrete steps in unbolting the country's often reviled "Re-education Through Labor" system.
September 19, 2013 — Updated 0533 GMT (1333 HKT)

Compared with U.S. peers, the Chinese leading e-commerce players will take a bigger share, writes David Wei.
September 8, 2013 — Updated 1716 GMT (0116 HKT)

A Chinese journalist jailed for eight years for leaking government restrictions on reporting is now free.
Today's five most popular stories

See more here:
China police tackle 'online jihad'
The post China police tackle 'online jihad' appeared first on Arne Ruhnau News.
via Arne Ruhnau News http://arneruhnau.com/china-police-tackle-online-jihad/