STORY HIGHLIGHTS


Pirelli defends its tires after Sergio Perez suffers dangerous blowout in Korea


Supplier dismisses safety concerns despite criticism from drivers


Sebatian Vettel wins fourth successive race to close in on fourth world title


German can potentially clinch championship in Japan next Sunday









(CNN) — Sebastian Vettel is potentially just a week away from becoming only the third Formula One driver to win four consecutive world titles, but outside of the German's continued dominance the big talking point of Sunday's Korean Grand Prix was another ugly tire issue.
For the second time this year, F1′s official supplier Pirelli has been forced to explain a potentially dangerous blowout during a race.
Several incidents at June's British Grand Prix forced the Italian company to strengthen its compounds amid threats of a driver strike if safety was not improved, and the issue has come to light again after Sergio Perez had to wrestle for control of his McLaren after the right-front tire fell to bits.
"I'd done 21 laps with that set, when, all of a sudden, the front-right just exploded, destroying the front win," said the Mexican, who also suffered blowouts at Silverstone in practice and during the race.
Read: F1 race results and championship standings
"It was lucky, because there weren't any other cars around me."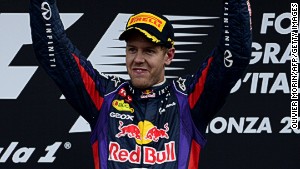 What's behind Vettel's winning streak?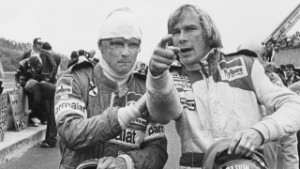 Niki Lauda on F1′s most dangerous years
Pirelli motorsport director Paul Hembery defended the tires.
"It was a big flat spot that put a huge hole right the way through the tread. There's not a lot we can do about that one," said Hembery, whose firm will again be F1′s sole supplier next year.
"It was a big lockup and he just burned this huge hole which lost air, and when tires do that, all sorts of things can happen. So we've absolutely no fears going forward."
Red Bull's Mark Webber, however, voiced his disapproval.
"The drivers aren't super important, it is what other people want," said the 37-year-old, whose race was ended when his car burst into flames after being hit by the Force India of Adrian Sutil.
Read: Vettel beats Hamilton to Korea pole
"The tyres are wearing a lot and they also explode a bit, but that is for Pirelli to sort out," the Australian added.
"Pirelli will also put the puncture of Perez down to a lockup, but the reason the drivers are locking up is because there is no tread left."
Vettel was able to clinch his fourth successive race victory, avoiding the chaos and tense battles going on behind him despite twice being held up when the safety car was brought out after the Perez and Webber incidents.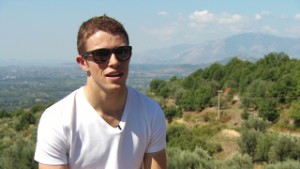 Paul di Resta's Italian ancestry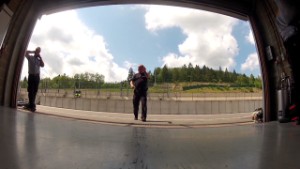 Watch adrenaline-filled tour of Spa track
He led from pole position to notch up the 34th win of his career as he closes in on the 41 of Ayrton Senna, who is third on the all-time list.
"This track, it's known that the limit is the front-right (tire). We saw it the previous years, and basically it's good to have the team on the radio warning you — because obviously you see what's going on, the tire grains immediately and then kind of stabilizes," said Vettel, who now has a 77-point lead over Fernando Alonso.
"But when it stops graining basically there's nothing left and that's quite dangerous because it's quite likely to have a big lockup. You have a flat spot, which could end with pitting the stint earlier than you want or having a tire puncture.
"So yeah, they were quite worried, similar to last year. I thought I had it more or less in control but obviously it's good to communicate."
The German will join Juan Manuel Fangio and Michael Schumacher in the history books if he wins next weekend's Japanese Grand Prix and Alonso is no higher than ninth.
The Spaniard finished sixth in Yeongam after tangling with Felipe Massa near the start — while Alonso lost a place, his Ferrari teammate was left at the back of the field before battling back to claim ninth ahead of Perez.
Vettel's main threats ended up being the Lotus duo Kimi Raikkonen and Romain Grosjean, who claimed second and third.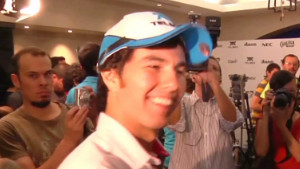 Mexico's new F1 hero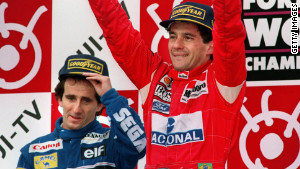 Who is the greatest F1 driver ever?
Sauber's Nico Hulkenberg provided much of the day's entertainment with an impressive drive to take fourth place ahead of Mercedes' Lewis Hamilton, another driver to complain about the tires after losing 16 seconds in the space of just six laps.
Read: New Jersey back on 2014 calendar
"After the second safety car, we lost out in traction to the Sauber," said Hamilton, who dropped to fourth overall below Raikkonen.
"It was a nice battle with Fernando at the end, but it's hard to take when it's only for P5 or P6. It was just not a good race for us, but we have the chance to bounce back in Suzuka."
The 2008 world champion's teammate Nico Rosberg was seventh ahead of McLaren's Jenson Button, putting Mercedes a point behind second-placed Ferrari in the constructors' standings — which Red Bull leads by 118 points.
"Vettel is a very long way off in terms of points, and we cannot expect miracles between now and the end of the championship," said Alonso, who had also criticized the tires following Saturday's qualifying.
"Second place in the constructors' championship is probably a more realistic target, but one thing is certain, we are not giving up now and we will give it our best shot right to the very end."
Vettel has won for the last three years in Korea and the previous race on the calendar, Singapore. He now heads to a Suzuka circuit where he has triumphed three of the last four times.
"The car is working … it's on the edge, to be honest, more so than you would probably think from the outside, but it's obviously nice when you get the results like Singapore or this weekend," he said.
"I look forward to Japan because it's one of the nicest tracks of the whole season. It's the best track in the world, with the fans completely crazy in a positive way.
"They're big fans of motorsport, very passionate, so I'm very much looking forward to one of the highlights of the season."
View original article:
F1: Tire fears mar Vettel title march
The post F1: Tire fears mar Vettel title march appeared first on Arne Ruhnau News.
via Arne Ruhnau News http://arneruhnau.com/f1-tire-fears-mar-vettel-title-march/