STORY HIGHLIGHTS


Championship leader Sebastian Vettel has most pole positions in 2013


German will head grid for Sunday's Korean Grand Prix from Lewis Hamilton


Vettel's teammate Mark Webber qualifies third but will start from 13th place


Lotus' Romain Grosjean heads the second row along with Mercedes' Nico Rosberg









(CNN) — Sebastian Vettel is so dominant in Formula One right now that his rivals must be hoping for help from the heavens, but even the weather seems unlikely to stop the Red Bull driver from a fourth successive win at Sunday's Korean Grand Prix.
A typhoon had been forecast to hit this week in Yeongam, but conditions have died down — although there is still a possibility of rain during the race.
Vettel, however, was unconcerned after clinching his sixth pole position of 2013 with another commanding performance in Saturday's qualifying at the Korean International Circuit.
The German headed off Mercedes' Lewis Hamilton, who was fastest in Friday's second practice, while Red Bull teammate Mark Webber was third fastest — though the Australian will start 13th on the grid after his third reprimand of the season at Singapore.
Interactive: F1 gears up for more Gangnam Style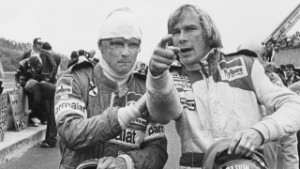 Niki Lauda on F1′s most dangerous years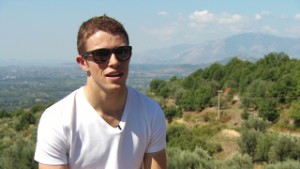 Paul di Resta's Italian ancestry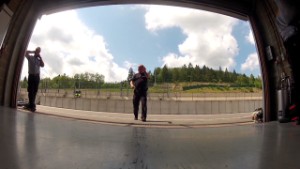 Watch adrenaline-filled tour of Spa track
"It's not a disaster if it starts to rain," Vettel told reporters after setting pole for the third successive race, at a venue where he has won the past two years. "Same as usual we have rain tires in the garage but obviously they're talking about heavy wind.
"I arrived on Wednesday and it was very, very windy. Since then the wind seems to have died down and I think the typhoon has changed direction. I think tomorrow should be fine in terms of conditions — whether it is dry or wet.
"If we get some of the rain from the typhoon isn't 100% clear at the moment but, as I said, it doesn't matter. Most important is that we did the job."
Hamilton also had five pole positions going into qualifying, but was just over two-tenths of a second slower than Vettel — who leads the championship by 60 points as he seeks a fourth successive world title.
Read: Vettel – We work the hardest
"We did as good a job as we could," said 2008 world champion Hamilton. "I felt like I got the most out of the car and perhaps there's always a little bit of room to improve but in general it's been a good weekend so far, so I really hope that tomorrow we're able to fight with them."
Webber is paying the price for receiving a lift from Ferrari's Fernando Alonso following his car's late failure in Singapore, an act of friendship that left both drivers in trouble with the race stewards.
"We had to take a bit of pace out of the car for qualifying. Not much but just looking at how we would compromise qualifying a little bit more for the race," said the 37-year-old, who has six races left before quitting F1 to drive for Porsche in the World Endurance Championship.
"I think the race will be interesting. Obviously well and truly out of position but we will fight and come back through."
Read: Will rule changes stop Vettel?
Lotus' Romain Grosjean will head the second row after qualifying fourth, followed by Mercedes' Nico Rosberg and Alonso — who criticized tire supplier Pirelli after being more than 0.8 seconds slower than Vettel.
"It's a tire that cannot do five kilometers. If you push them, you finish them — which is not normal," said the two-time world champion, who won the inaugural Korean race in 2010.
"I'm sure all the cars, if they pushed 100% from the start of a lap, they would not do five kilometers. So it is not very helpful and not very nice to drive like this, at 95% of the lap.
"We are getting used to them being unable to last one lap, getting used to these marbles (rubber debris on the track) so you have two meters of racing line. Three or four years ago no-one would have thought this was possible."
Alonso's teammate Felipe Massa will start sixth ahead of Sauber's Nico Hulkenberg and Esteban Gutierrez.
Kimi Raikkonen, who will replace Massa at Ferrari next year, will be ninth ahead of the McLaren duo of Sergio Perez and Jenson Button.
Continued:
F1: Vettel beats Hamilton to Korea pole
The post F1: Vettel beats Hamilton to Korea pole appeared first on Arne Ruhnau News.
via Arne Ruhnau News http://arneruhnau.com/f1-vettel-beats-hamilton-to-korea-pole/