Banksy sets New Yorkers on race to find street art before vandals
By Max Foster, CNN
October 3, 2013 — Updated 1409 GMT (2209 HKT)
STORY HIGHLIGHTS


Banksy started out as a graffiti artist in western England but his work now sells for millions


He is in New York for what his spokesperson says is a "month-long residency."


Banksy is painting images, taking photos and publishing them on Instagram and his website.


Finders of the works can phone a toll-free number to get a commentary on them.









Editor's note: Max Foster is a CNN anchor, royal correspondent and host of "Marketplace Europe." Follow @MaxFosterCNN on Twitter
(CNN) — The race is on to locate the latest Banksy on the streets of New York. The work shows a dog urinating on a fire hydrant — with a thought bubble above the hydrant reading "You complete me."
This is the third piece by the mysterious street artist to appear this week.
The first depicted two boys reaching up to a sign which said "Graffiti Is a Crime."
The second simply read "This is my New York Accent… normally I write like this."
Banksy authenticated the works by publishing them on his website and within hours they were located and defaced.
Banksy may have started out as a graffiti artist in western England but his work now sells for millions in the coveted evening contemporary art auctions at Christie's and Sotheby's.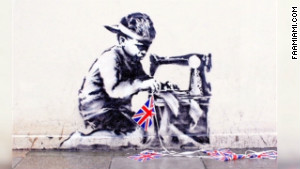 Missing Banksy mural found in Florida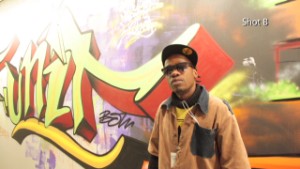 Rapper uses wall as 'graffiti sketchbook'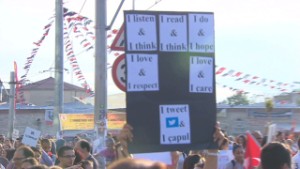 Politics and art in Turkey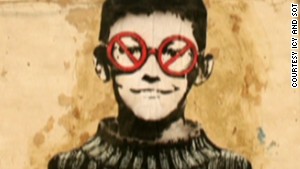 Iranian artists coloring the world
His foray into the film business even earned him an Oscar nomination.
Read more: Oscars won't let Banksy attend in disguise
He's a hugely successful artist and crucially he knows how to manage his brand.
Banksy knows that his reputation was made on street corners, not in establishment hang-outs like the auction rooms of London and New York.
New York 'residency'
He regularly reminds us of his roots, as with his latest project in New York which his long serving PR, Jo Brooks, describes as: "A month-long residency on streets of New York."
Read more: Banksy mural torn from wall, up for auction
Banksy is painting images on walls, taking photographs and publishing them on Instagram and his own website.
It's art but it's also a treasure hunt — a race to locate the work before the vandals. Next to each piece is a toll-free number that the finder can call to receive an audio commentary of the work whilst standing in front of it.
Banksy was an early adopter of social media.
It was the perfect tool to allow him to communicate directly with fans whilst also protecting his anonymity. He's using Instagram because it doesn't matter where you are, you can see what's going on. The more traditional use of a toll-free number is intended to make it feel like you're in a museum.
The lingering question is: Will anyone locate Banksy himself and publish that picture on Instagram? Well I've been trying for years.
Apparently I've even met him without knowing it. But this month I hand the task over to New Yorkers …
Read more: Street vs public art

Part of complete coverage on
Arts and Culture
July 30, 2013 — Updated 1713 GMT (0113 HKT)

First came the discovery of the long-lost remains of Richard III. Now archaeologists exploring the same car park have found a coffin within a coffin.
August 20, 2013 — Updated 1258 GMT (2058 HKT)

If you're of the opinion that the only thing better than viewing great art is owning it, put these destinations on your travel itinerary.
May 23, 2013 — Updated 0221 GMT (1021 HKT)

A quarter century after his death, American pop artist Andy Warhol has popped up in China again after his first and only trip to the country in 1982.
March 22, 2013 — Updated 1107 GMT (1907 HKT)

David Bowie has released his first songs in a decade, just as a new exhibition of his life and career opened at London's V& Museum.
April 12, 2013 — Updated 1508 GMT (2308 HKT)

Amsterdam's Rijksmuseum is reopening after a massive 10-year rebuild. Get up close to its most treasured possession with our interactive.
April 11, 2013 — Updated 1056 GMT (1856 HKT)

Thieves have forced Paris' Louvre museum to close, but an art heist was not to blame. Instead staff walked out in protest at pickpockets.
May 2, 2013 — Updated 1036 GMT (1836 HKT)

A three minute jazz record was enough to cast a spell on a wealthy European heiress who became determined to meet the artist behind the tune.
April 12, 2013 — Updated 1102 GMT (1902 HKT)

Artist Zao Wou-ki, widely regarded as one of the foremost Chinese painters of the 20th century, has died at the age of 93.
April 11, 2013 — Updated 0942 GMT (1742 HKT)

Phallic good luck charms, an amber gladiator amulet and wooden buildings are among a trove of Roman artifacts found in London's financial district.
April 10, 2013 — Updated 1213 GMT (2013 HKT)

Leading philanthropist and cosmetics tycoon Leonard Lauder offers to donate 78 Cubist works to the New York Metropolitan Museum of Art.
March 20, 2013 — Updated 0047 GMT (0847 HKT)

With her glossy hair, exotic outfit and ruby-red pouting lips, she's every inch the classic pin-up… except, that is, for that greenish-blue skin.
March 18, 2013 — Updated 1840 GMT (0240 HKT)

A mystery portrait donated to a British heritage charity has been identified as a work by Rembrandt van Rijn — worth more than $30 million.
Today's five most popular stories

Credit:
The post Find a new Banksy appeared first on Arne Ruhnau News.
via Arne Ruhnau News http://arneruhnau.com/find-a-new-banksy/