STORY HIGHLIGHTS


Shadow puppetry in Indonesia is known as wayang kulit has a rich tradtion in Bali and Java


Modern interpretations and social messages help keep the art form current and interesting


Bali hosted its first shadow puppet festival last week


Puppeteers have to be master storytellers and master tens of voices for characters









Denpasar, Bali (CNN) — Never work with children or animals, goes the actors' maxim. Perhaps add puppets to that, too.
"We've got the trifecta right here," says Australian puppeteer Peter Wilson during rehearsals for "Bali Agung" a live action performance in Bali Safari & Marine Park that features all of the above.
The show is less traditional puppet theater and more a Balinese Baz Luhrmann-style "spectacular" with a cast of hundreds including dancers, a gamelan orchestra, giant puppets and a menagerie from the safari park.
While one of the seven Asian elephants exits stage-right and the giant sea-monster puppets are carried backstage Wilson explains the challenges of directing the unusual cast.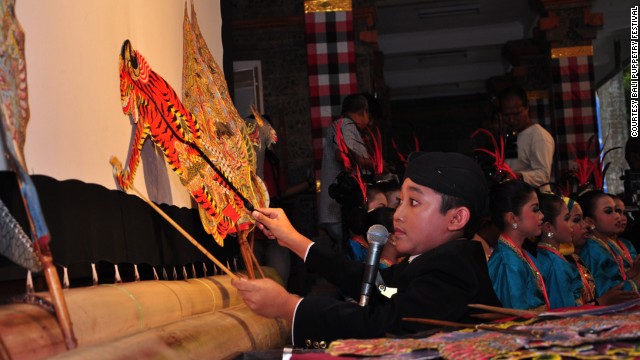 A young performer at the first Bali Puppetry Festival that took place from September 22 to September 27.
"Often a performance offers a message or something to learn," says festival organizer Ayu Mandala. Although there were plenty of lighter touches like a shadow puppet Psy.
A Bunraku puppet performer from Japan.
Potehi puppetry arrived in Indonesia from China in the 16th century.
Made Sidia is a Balinese "dalang" or master of shadow puppetry, known as wayang kulit. He is a fourth generation puppeteer whose young son is learning to be a performer.
Sidia and Australian puppeteer Peter Wilson are co-directors of a show that combines shadow puppetry with live action performance called "Bali Agung" at the Bali Safari and Marine Park.
The show features a menagerie of animals, including ducks, cows, elephants and a jaguar.
Bali's puppet masters
Bali's puppet masters
Bali's puppet masters
Bali's puppet masters
Bali's puppet masters
Bali's puppet masters
Bali's puppet masters
HIDE CAPTION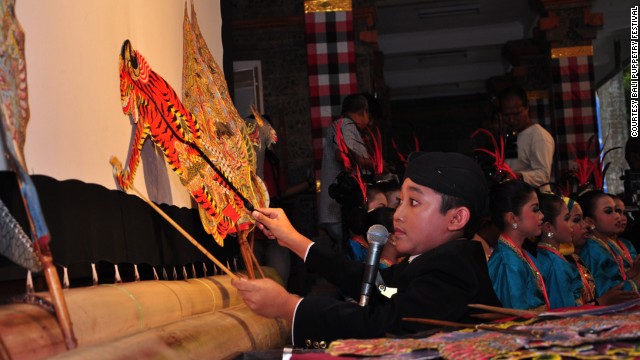 Bali's puppet masters
It's quite normal to use characters like the police chief or the local governor combined with jokes.

Ayu Mandala, organizer Bali Puppetry Festival
"It's been incredible to mix together puppets with live creatures and the balance of how they can work together on stage."
The puppets have been the best behaved of the cast he jokes, the ducks a bit of a trial sometimes, and the jaguar always kept on a tight leash, "but there's so much talent here (in Bali) that we've combined with expertise from Australia and across the world that it's been a great experience and we hope we're leaving a good legacy."
Explore more: Mind bending contortionists
Closing the book on a career in accounting in the 1970, Wilson has since traveled the world developing puppet shows and performances, including part of the opening ceremony for the Sydney Olympics in 2000.
But the rich traditions of puppetry in Indonesia, especially shadow puppets in Java, Lombok and Bali, drew him to the island to create his latest performance which he co-directs with Balinese puppeteer Made Sidia.
Sidia is a fourth generation puppeteer known as a master, or "dalang" of shadow puppetry (wayang kulit). After picking up his father's buffalo hide puppets age 10 he has carried on the family tradition, but is keen to explore the modern potential of shadow puppetry and storytelling, one of the motivations for his collaboration with Wilson.
"It's a little bit of a worry that younger people would rather play video games (then go to puppet shows)," he says from the now animal-free stage of Bali Agung.
"Little by little I created new performances for shadow puppet using projectors and animation to make shadow puppet more interesting."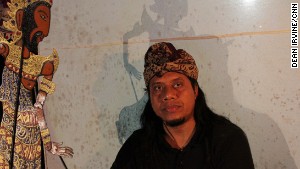 Made Sidia behind the shadow puppet screen.
As well as the skill of animating the puppets — Sidia says it takes around 5 months for a puppeteer to train — shadow puppet dalangs are master story-tellers, having to conjure up tens of voices for all the characters in a performance.
Many of the traditional tales that Sidia performs hark back hundreds of years, tapping into Hindu mythology or well-known Balinese sagas like the story of King Sri Jaya Pangus who ditches his wife Kang Ching Wee for a goddess, the subject of Bali Agung.
Behind the scenes with the Muppets
Never work with children, animals or puppets, well, we've got the trifecta right here.

Peter Wilson, puppeteer
"Puppetry always been a part of life here in Bali," says Ayu Mandala who organized the first international Bali Puppetry Festival on the island last week. "It's still very strong, although in other parts of the country it's missing. It's a cultural icon of Indonesia and we just wanted to bring awareness to it."
Puppeteers from across Asia attended the event with some contemporary cultural twists, like Korean pop star Psy doing the crazy pony dance in a show from a Myanmar performer.
An abbreviated version of "Bali Agung" will be shown to APEC bigwigs visiting Bali this week, but political satire and snarky opinion is not beyond the purview of shadow puppetry in Bali or elsewhere.
"Often a performance offers a message or something to learn, " says Mandala. "It's quite normal to use characters like the police chief or the local governor combined with jokes."
"Real figures aren't depicted, so puppeteers won't get in trouble, but they will talk about current events in their performance."
As the lights are switched off at the end of the rehearsal, Wilson says that pulling the heart strings and engaging the audience's emotions are as important as any social message.
"The spirituality of what exists here is really special; the stories here are so full of everything you'd want drama, intrigue, battles, relationships."
Continued:
The shadow puppet masters of Bali
The post The shadow puppet masters of Bali appeared first on Arne Ruhnau News.
via Arne Ruhnau News http://arneruhnau.com/the-shadow-puppet-masters-of-bali/