Janet Yellen's rise highlights dearth of women in central banks
By Nina dos Santos, CNN
October 10, 2013 — Updated 1042 GMT (1842 HKT)
STORY HIGHLIGHTS


Janet Yellen has been nominated by President Obama to lead the Federal Reserve


This would make her one of the most powerful women in the world


But it also reveals how few female central bankers there are around the world









Editor's note: Nina dos Santos is a London-based news anchor and correspondent. She is the host of CNN International's twice-daily global business show World Business Today and regularly presents various feature shows including CNN Marketplace Europe. Follow her on Twitter.
(CNN) — Two weeks into the U.S. government shutdown and, days before a potential default, president Barack Obama has made a last ditch attempt to restore credibility to the world's largest economy.
In nominating Janet Yellen to chair the mighty Federal Reserve, the president has tried to soothe markets already roiled by Washington D.C.'s bickering.
Do investors care whether Yellen is a woman? "Of course not," I hear you cry. What they care about is whether she will print more, cheap money and keep rates low.
WATCH MORE: The most powerful woman you've never heard of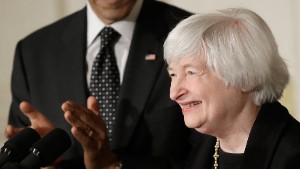 Forward thinking is Yellen's trump card
But aside from her immediate leanings on quantitative easing, Yellen's nomination is an important milestone for female representation in the world of monetary policy.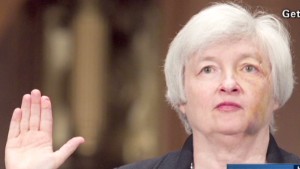 Janet Yellen: 'Small lady with large IQ'
Why? Because for the first time a woman is being entrusted with the value of not just any currency but the world's most important reserve and trading currency.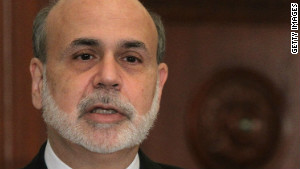 Bernanke: We're letting up on gas pedal
Her actions will touch the lives of millions at home and abroad, giving patriarchal societies pause for thought.
READ MORE: Horrible way to fill one of world's most powerful jobs
Women may not be allowed to vote in Saudi Arabia, for instance, but the country's main export — oil — is priced in dollars. Men may dominate the financial sector but for the next four years they will have to hang on a woman's every word.
Yet as influential as she may be, Yellen cuts a lonely figure in the global organogram of central banks, especially in Europe, where both the ECB and the Bank of England are currently bereft of girl power at the top of the tree.
A cursory glance at the Central Bank Directory shows just 12 of the world's 160 central banks had female governors last year. That's about 6%. Such figures would not be acceptable on the board of your average listed firm.
Last year 15% of directors at FTSE 100 companies were women while the EU is pushing for boards to raise that quota to 40% by the end of the decade.
READ MORE: Women still missing from Asia boards
Yellen is no ordinary women or economist. She is an extraordinarily experienced, trusted pair of hands who faces a formidable task ahead in trying to wean world markets off five years of basically free money.
But in elevating her to its helm, the Fed joins a woefully short list of national banks with female governors that includes not exactly influential countries like Belarus, the Kyrgyz Republic and Samoa.
Continue reading here:
Yellen: Rare female in central banking
The post Yellen: Rare female in central banking appeared first on Arne Ruhnau News.
via Arne Ruhnau News http://arneruhnau.com/yellen-rare-female-in-central-banking/