STORY HIGHLIGHTS


President Obama blasts the GOP's tea party wing for "ransom" demand


Congress plays legislative ping-pong with a shutdown hours away


In a new poll, Americans spread the blame and say Congress acts like "spoiled children"


NEW: Republican moderates rebel, seek votes on spending to end shutdown threat, sources say









Washington (CNN) — With a government shutdown looming, politicians in Washington were talking at each other Monday instead of negotiating a way to avoid it.
In the latest volley of legislative ping pong over a short-term spending plan needed to avoid a shutdown at midnight, Senate Democrats again rejected a House proposal that also would derail Obamacare.
The 54-46 Senate vote on strict party lines returned the focus to the Republican-led House, where Speaker John Boehner said another effort would be made to attach provisions that would delay President Barack Obama's signature health care reforms from full implementation starting Tuesday.
Despite repeated rejection by the Democratic-led Senate and a veto threat by Obama, House Republicans will raise the stakes on the spending plan by also voting on a provision to force the president and members of Congress to get private health coverage under Obamacare instead of the government health care program, Boehner said.
Obama made a previously unscheduled statement to reporters on Tuesday afternoon that repeated his criticism of the repeated attempts by House Republicans to undermine Obamacare that he said no threatens to harm the economy with a shutdown.
"You don't get to extract a ransom for doing your job, for doing what you're supposed to be doing anyway, where just because there's a law there that you don't like," Obama said.
Moderate GOP revolt against Boehner?
Meanwhile, GOP sources told CNN that moderate House Republicans were trying to galvanize what would amount to a rebellion against Boehner and their tea party colleagues by defeating the latest proposed spending plan with attached anti-Obamacare provisions.
To succeed, the moderates who want to vote on a "clean" spending plan with no extra provisions attached need about 20 Republicans to join Democrats in defeating what will be the third GOP version that attempts to undermine Obamacare.
Without congressional approval of new spending legislation, parts of the federal government will begin shutting down when the current fiscal year ends at midnight, forcing agencies to furlough thousands of workers and curtail some services until there is a resolution.
"I feel sad about it. We expect more from our Congress," said Vick Temple, a worker for the Federal Aviation Administration who told CNN he faced being furloughed in a shutdown.
Polls show public opposition to a shutdown, and stocks ended lower Monday on Wall Street due to concerns over the economic impact.
However, House Republicans decided to try again to force the Senate Democrats to back down by planning to attach more anti-Obamacare provisions to a third version of the short-term spending plan needed to keep the government funded for several weeks beyond Monday.
In addition, Boehner and other House GOP leaders said they would add the so-called nuclear option that would force Democrats to essentially vote in favor of giving themselves and their staff members government subsidies for health coverage.
The Obamacare subsidies are similar to the health care coverage that private employers provide their workers. Under the House GOP provision, Obama and members of Congress as well as their staff would obtain health coverage through the private exchanges of Obamacare that go into effect on Tuesday.
GOP Rep. James Lankford of Oklahoma told CNN that the Affordable Care Act was written to ensure that politicians in Washington would receive the same health care options and costs as people who purchase private health coverage within the program.
"I think it's right to have employer provided health care, but the way the law is written, it's not allowed," Lankford said.
Meanwhile, the two parties persisted in blaming the other side as the shutdown deadline neared.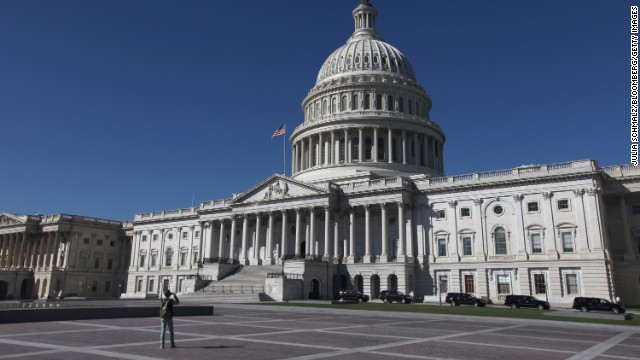 The game is the same, but many of the players have changed. Congress and the president are facing off in another supreme spending showdown. If they don't agree on a funding bill by the end of September 30, much of government will shutdown. This last happened in 2011, when Congress avoided a shutdown by passing a spending measure shortly after the midnight deadline hit. Who controls what happens this time? Take a look at the key players who will determine how this fight ends:
– From CNN Capitol Hill Reporter Lisa Desjardins. CNN's Deirdre Walsh and Ted Barrett contributed to this report.
Rep. Mark Meadows, R-North Carolina — The architect. During Congress' August recess, the tea party-backed freshman wrote to Republican leaders suggesting that they tie dismantling Obamacare to the funding bill. Though initially rejected by GOP leadership, 79 of Meadows' House colleagues signed on to the letter, which quoted James Madison writing in the Federalist Papers, "the power over the purse may, in fact, be regarded as the most complete and effectual weapon … for obtaining a redress of every grievance."
Speaker John Boehner, R-Ohio — The coach. He'll make the key play call. The top Republican leader in the land may be the most important player in the days immediately before a possible shutdown. Boehner could decide whether to push through the Senate's version of a spending bill and keep government running, or he could float a third version with some other Republican wish list items in it. If he takes the second option, Boehner could risk a shutdown but could also force the Senate into a tough position: give House Republicans something or send federal workers home. Timing on all this will be critical.
Sen. Ted Cruz, R-Texas — The revolutionary or rabble rouser, depending on your viewpoint. The tea party firebrand could lead a long filibuster on the Senate floor, delaying passage of a spending bill until just one day before the deadline on Monday, September 30. Cruz has stoked the anti-Obamacare flames all summer, but recently angered fellow Republicans by openly saying that the Senate does not have the votes to repeal the health care law.
Sen. Marco Rubio, R-Florida — Senator to watch. The potential presidential candidate has been one of three senators (Cruz and Mike Lee, R-Utah, being the others) pushing to use the government shutdown debate as a way to repeal or defund Obamacare. But watch his actions and language as a shutdown nears to see if he digs in or if downshifts at all.
Sen. Harry Reid, D-Nevada — The man steering the ship in the Senate. Master at using Senate procedure to his advantage, Reid is the main force in controlling the voting process in the chamber and ensuring that an attempted filibuster by tea party-types fails. The majority leader will be a primary negotiator if we reach phase three, if the House does not accept the Senate spending bill.
Sen. Mitch McConnell, R-Kentucky — If Reid steers the ship, McConnell controls the headwinds. Which is good news for Reid, at least initially. The Republican leader and several of his members say they will vote against Cruz's filibuster and in favor of a spending bill with no limits on Obamacare. Meaning, in favor of a bill that just funds government. McConnell generally has been leery of running into a shutdown or default. In fact, one legislative method for avoiding default is named after him.
Sen. Patty Murray, D-Washington — The consigliore. Murray, center, does not seek the outside limelight, but the Senate Budget Committee chairwoman is a major fiscal force behind the scenes on Capitol Hill. Known by fellow Democrats as a straight shooter, she is also an experienced negotiator, having co-chaired the laborious, somewhat torturous and unsuccessful Super Committee.
Rep. Tom Graves, R-Georgia — The new militia leader. The freshman congressman from Georgia, second from right, is one reason the debate has reached this point. Graves led the charge that blocked the original proposal by House Republican leaders. That would have kept government funded and had a detachable portion on Obamacare. Instead Graves and other conservatives forced their leaders to pass a spending bill with a mandatory defunding of Obamacare.
Rep. Peter King, R-New York — The blunt statesman. King is outspoken against many tea party tactics, calling the move to tie Obamacare to the must-pass spending bill essentially a suicide mission and Cruz "a fraud." He is pushing for Republicans to accept a more "clean" spending bill that can pass the Senate and avoid a shutdown.
Thomas Donohue, president and CEO of the U.S. Chamber of Commerce — The heavy. Donohue is known for his deep connections and his aggressive lobbying on behalf of business. He and the Chamber are urging Republican lawmakers to avoid a shutdown. The Chamber is an important political backer for conservatives, but has had mixed success with the current Congress, locking in firm anti-tax positions but unable to push through immigration reform so far.
Michael Needham, president of Heritage Action — The driving force. Needham runs the political offshoot of the conservative Heritage Foundation and has been unrelenting in urging lawmakers to repeal Obamacare. He has told Republicans not to fear a potential shutdown, saying they would suffer more politically from allowing Obamacare to continue.
President Barack Obama — The campaigner and CEO. Expect the president to use his podium more as a shutdown nears, aiming at public opinion as Democrats in Congress position themselves. If House Republicans send back a new proposal close to the September 30 deadline, the president and Democrats will have to decide what move to make next.
Rep. Eric Cantor, R-Virginia — The powerful lieutenant. Cantor, the House Republican No. 2, is much more closely allied with conservatives and tea party members in the House than is Speaker Boehner. The two have not always agreed on every strategy during potential shutdown debates, but have been in public lockstep during the current go-around.
Rep. Nancy Pelosi, D-California, and Steny Hoyer, D-Maryland — Players on deck. The top two House Democrats are mostly watching and waiting. But they will play a critical role once Boehner decides his next move. They could either bring Democratic votes on board a deal or be the loudest voices against a new Republican alternative. Hoyer will be interesting to watch; he has strongly opposed both the House and Senate plans as cutting too much in spending.
Rep. Kevin McCarthy, R-California — The numbers guy. McCarthy, the House whip, has the tricky job of assessing exactly where Republican members stand and getting the 217 votes it takes to pass a bill in the chamber. He is known for his outreach to and connection with many of the freshmen House members who align with the tea party.
Rep. Paul Ryan, R-Wisconsin — Member to watch. The vote of the House budget chairman and former vice presidential nominee is an important signal both within Republican ranks and to the public at large. Ryan has voted against some funding measures in the past, including the emergency aid for Superstorm Sandy recovery. But he was a "yes" on the last extension of the debt ceiling.
Rep. Ileana Ros-Lehtinen, R-Florida — Another member to watch. A former committee chairwoman (Republican rules have term limits for committee chairs), Ros-Lehtinen knows House politics and procedure inside out. Depending on the issue, she has been described as a conservative or moderate, and occasionally as a libertarian.
Key players in the shutdown debate
Key players in the shutdown debate
Key players in the shutdown debate
Key players in the shutdown debate
Key players in the shutdown debate
Key players in the shutdown debate
Key players in the shutdown debate
Key players in the shutdown debate
Key players in the shutdown debate
Key players in the shutdown debate
Key players in the shutdown debate
Key players in the shutdown debate
Key players in the shutdown debate
Key players in the shutdown debate
Key players in the shutdown debate
Key players in the shutdown debate
Key players in the shutdown debate
Key players in the shutdown debate
HIDE CAPTION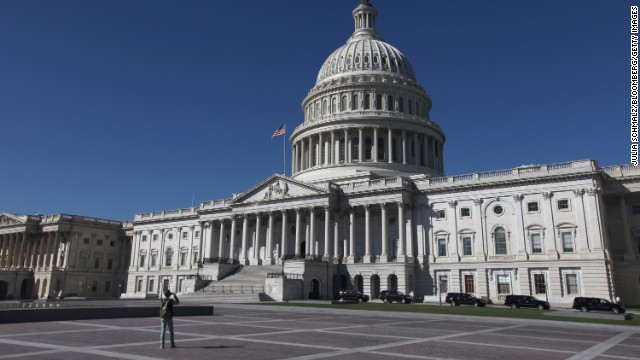 Photos: Key players in the shutdown debate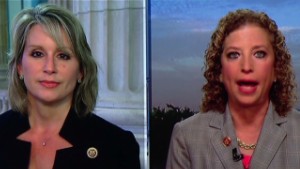 Lawmakers back and forth on shutdown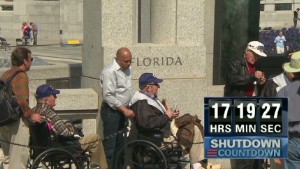 Shutdown means no military pay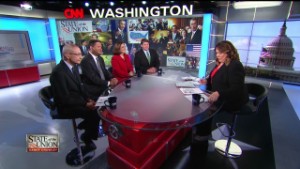 Political effect of a government shutdown
Republican Rep. Renee Ellmers of North Carolina said on CNN's "New Day" that her party continues to be deeply concerned about Tuesday's scheduled opening of Obamacare health insurance exchanges and "keeping the checkbook out of Barack Obama's hands and the damage can be done there."
Get up to speed on the showdown
Rep. Debbie Wasserman Shultz, D-Florida, appearing alongside Ellmers, characterized the Republican strategy of tying overall government operations to at least a delay in health care changes as "irrational."
"It jeopardizes the economy and it makes no sense," she said.
On Monday morning, Obama told reporters he wasn't resigned to a shutdown, but he signaled its likelihood even as he indicated possible talks with congressional leaders.
"I suspect that I will be speaking to the leaders today, tomorrow and the next day," Obama said at a joint appearance with visiting Israeli Prime Minister Benjamin Netanyahu, who acknowledged the Washington brouhaha by thanking the president for meeting with him "on what I know is a very busy day for you."
The latest plan rejected by Senate Democrats would have delayed Obamacare for a year and repealed a tax on medical devices.
Legislative ping pong
Last week, the Senate voted down a House GOP plan to eliminate funding for Obamacare in a short-term spending plan to keep the government running in the new fiscal year that begins Tuesday.
Democrats have pressured Boehner to give up a losing fight over Obamacare forced by tea party conservatives and instead hold a vote on a "clean" spending plan that includes no provisions seeking to undermine the health care reforms.
On CNN, Wasserman Schultz predicted that such a measure would pass easily with support from all Democrats and more moderate Republicans.
Some Republicans expressed frustration Monday with the tactics of their congressional colleagues. Veteran GOP Sen. John McCain of Arizona noted that any attempt to repeal Obamacare would fail because of Obama's veto, which would require a two-thirds majority in the Senate to overcome.
"There's not 67 votes in the United States Senate, therefore, ergo, we're not going to repeal Obamacare," McCain said. "Okay? That's it. We may do this for a day. We may do it for a week. We may do it for a month. It's going to end up the same way. "
GOP Rep. Charlie Dent of Pennsylvania told CNN Chief Congressional Correspondent Dana Bash that whichever party was to blame, a shutdown will make everyone look bad.
"At this point, the hourglass is nearly empty," Dent said. "Now that we've sent over two volleys to the U.S. Senate and they rejected both."
Trying again would only yield the same result, he continued, adding that "sooner or later, we have to pass a clean resolution to fund the government before the end of the day."
"I believe the votes are there to do it," Dent said.
10 ways the shutdown would affect you
Obamacare a GOP focus
Obama and Democrats reject what they call Republican efforts to use the threat of a government shutdown to force negotiations on the president's signature health care reforms.
Noting that the 2010 Affordable Care Act has been upheld by the Supreme Court, they say it is settled law that voters endorsed last year by re-electing Obama over GOP candidate Mitt Romney, who campaigned on repealing it.
A new CNN/ORC poll shows that Americans are not happy about the prospect of a shutdown, which is happening because Congress has been unable to pass a budget for the new fiscal year that begins Tuesday.
A game of chicken between Dems, GOP
According to the poll, 68% of Americans think shutting down the government for even a few days is a bad idea, while 27% think it's a good idea.
And it appears most Americans would blame congressional Republicans for a shutdown: Sixty-nine percent said they agreed with the statement that the party's elected officials were acting like "spoiled children."
Democrats, however, weren't far behind: Fifty-eight percent of respondents said they too were acting like spoiled kids.
A poll later showed public support for Congress at record low levels.
Stock traders also seemed solidly against a shutdown. The Dow Jones Industrial Average fell by more than 120 points, or nearly 1 percent, and the other two major indexes also closed lower.
Among major economic issues that could result from a shutdown: delays in processing FHA housing loan applications — a potential drag on the housing recovery — and the potential loss of government spending that's helping prop up the economy, said Christine Romans, host of CNN's "Your Money."
"You've got an economy right now that's very tied to government spending and government contracts, so that could have a ripple effect all across Main Street," she said on CNN's "New Day."
If the government does shut down, it would be the first time it has happened in more than 17 years. That previous shutdown, sparked by a budget battle between Democratic President Bill Clinton and a Republican Congress, lasted for 21 days.
CNN Poll: GOP would bear the brunt of shutdown blame
While the military will remain on duty, as will many essential public safety, health and welfare operations, many government offices will close. About a quarter of the federal government's 3.3 million employees — those frequently referred to as "nonessential" — will be told to stay home from work until the shutdown is over.
Attorney General Eric Holder and Defense Secretary Chuck Hagel said essential crime prevention and military services would continue, but some workers would be furloughed. Holder said he would cut his pay by the same amount as the most severely affected Justice Department employees because "we are all in this together."
Meet the man behind the government shutdown
CNN's Michael Pearson, Holly Yan, Ted Barrett, Lisa Desjardins and Deirdre Walsh contributed to this report.
Originally from:
Obama: We won't pay ransom to avoid shutdown
The post Obama: We won't pay ransom to avoid shutdown appeared first on Arne Ruhnau News.
via Arne Ruhnau News http://arneruhnau.com/obama-we-wont-pay-ransom-to-avoid-shutdown/