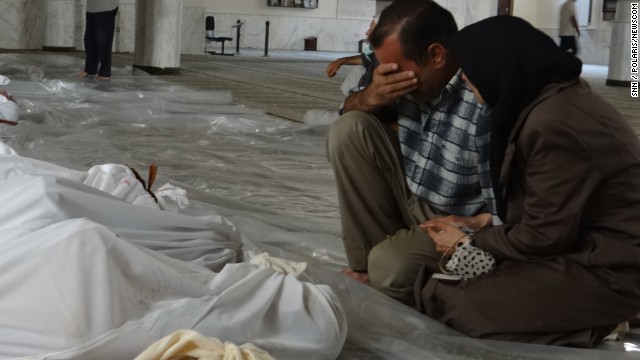 A man mourns over the bodies of those killed in a suspected chemical weapon attack in a suburb of Damascus, Syria, on Wednesday, August 21. Syrian rebels said that poisonous gas rained down from rockets overnight, but authorities have denied the allegations that they used chemical weapons and accused the opposition of staging the attacks. U.S. officials, however, said there were "strong indications" that there was a chemical weapons attack by the government.
People attend to the victims of the attack on August 21 in Damascus. British intelligence said at least 350 people died, while rebel leaders have put the death toll at more than 1,300.
Constricted pupils was listed as a symptom in victims of the alleged attack on August 21.
Victims of the attack are laid in the back of a truck in the Hamoria area of Damascus on August 21.
A young survivor takes shelter in a mosque in the Duma neighborhood of Damascus on August 21.
Victims are buried in a suburb of Damascus on August 21.
People search for the dead to collect samples to check for chemical weapon use in the Zamalka area of Syria on Thursday, August 22.
A group of young Salafists chants and waves black flags during a protest against the Egyptian and Syria regimes in the southern Gaza Strip on August 22.
A young woman holds a Syrian revolution flag and a candle during a protest of President Bashar al-Assad in front of the U.N. headquarters in Gaza City on Friday, August 23. U.N. Secretary-General Ban Ki-moon intends to conduct a "thorough, impartial and prompt investigation" into the alleged chemical weapons attack in Syria.
Pigeons' bodies litter the ground in the Damascus suburbs of Arbeen on Saturday, August 24.
Syrian soldiers are deployed in the Jobar neighborhood of Damascus on August 24.
Syrian President Bashar al-Assad speaks with the Russian newspaper Izvestia in Damascus, Syria, on Monday, August 26. He told the newspaper that Western accusations that the Syrian government used chemical weapons are an insult to common sense.
Representatives of Arab countries discuss Syria at the Arab League headquarters in Cairo, Egypt, on Tuesday, August 27. President al-Assad vowed to defend his country against any outside attack. "The threats of launching an aggression against Syria will increase its commitments," and "Syria will defend itself against any aggression," he said, according to Syrian state TV.
Suspected chemical attack in Syria
Suspected chemical attack in Syria
Suspected chemical attack in Syria
Suspected chemical attack in Syria
Suspected chemical attack in Syria
Suspected chemical attack in Syria
Suspected chemical attack in Syria
Suspected chemical attack in Syria
Suspected chemical attack in Syria
Suspected chemical attack in Syria
Suspected chemical attack in Syria
Suspected chemical attack in Syria
Suspected chemical attack in Syria
Suspected chemical attack in Syria
STORY HIGHLIGHTS


U.N. Security Council approves Syria chemical weapons resolution


Group agrees to fast-track Syria entry into Chemical Weapons Convention


"This could be significant victory," Obama says


Chemical weapons organization to send inspectors to Syria on Monday, official says









United Nations (CNN) — The U.N. Security Council, capping a dramatic month of diplomacy, voted unanimously late Friday to require Syria to eliminate its arsenal of chemical weapons.
"Today's resolution will ensure the the elimination of the Syria chemical weapons program happens as soon as possible and with the utmost transparency," Secretary-General Ban Ki-moon said.
The resolution did not authorize the automatic use of force if Syria is said to be in violation, as was previously sought by the United States.
It requires "the destruction of a category of weapons that the Syrian government has used ruthlessly and repeatedly against its own people. And this resolution will make clear that there are going to be consequences for noncompliance," Samantha Power, the U.S. ambassador to the United Nations, said before the vote.
Power described the move as significant, as it represented the first time since the start of Syria's civil war that the Security Council would impose binding obligations on Syria.
The 15-member Security Council met shortly after another international group voted to fast-track Syria's addition to the Chemical Weapons Convention, which bans such weapons.
Syria announced this month that it was willing to join the agreement.
The executive committee of the Organisation for the Prohibition of Chemical Weapons, or OPCW, meeting in the Netherlands, adopted its measure by consensus in about 10 minutes.
"We now have a legal mandate to start a verification mission in Syria," said group spokesman Michael Luhan.
U.S. President Barack Obama, speaking before the votes, said he was "very hopeful" about the developments, but warned much work remains to be done.
"I think, rightly, people have been concerned about whether Syria will follow through on the commitments that have been laid forth and I think there are legitimate concerns as to how technically we are going to be getting those chemical weapons out while there's still fighting going on the ground," Obama said..
Obama said the threat of U.S. military power pushed Syrian leaders to agree to destroy their chemical weapons and said the resolution "not only deters and prevents additional chemical use but actually goes beyond what could have been accomplished through any military action."
The president later said the resolution will ensure the Syrian government keeps its promises.
"We'll have to be vigilant about following through, but this could be a significant victory for the international community, and demonstrate how strong diplomacy can allow us to secure our country and pursue a better world," Obama said.
The OPCW plans to send an advance team of inspectors to Damascus on Monday, an official with the organization, who declined to be identified while discussing delicate operations, told CNN on Friday.
The team will establish a base for communications and begin preparations for inspections, the official said.
The official said that in order to meet international deadlines for destruction of Syria's chemical weapons, the group may opt for a "quick and dirty" program that would render the weapons unusable but wouldn't destroy them, the official said.
The United States and other Western nations blame the Syrian government for an August 21 chemical weapons attack outside Damascus that U.S. officials estimate killed 1,400 people.
U.S. official: Syrian CW list more complete than anticipated
Russia and Syria say they believe rebels used the weapons.
A role of late for Russia
"This is a breakthrough arrived at through hard-fought diplomacy," a senior State Department official said about the resolution.
"The Russians have agreed to support a strong, binding and enforceable resolution that unites the pressure and focus of the international community on the Syrian regime to ensure the elimination of Syria's chemical weapons," the official said.
According to a draft obtained by CNN, the resolution requests the director general of the OPCW and the U.N. secretary general report noncompliance to the Security Council. In the event of noncompliance, the council would impose measures under Chapter VII of the United Nations Charter.
Russia was the one to offer a proposal that Obama and others have embraced — to eliminate the Syrian government's chemical weapons stockpile.
Defense Minister Sergei Shoigu has said his country is willing to transport and destroy Syrian chemical weapons, although only as part of an international coalition.
Russia and the United States agreed earlier this month on the framework for such a plan. This came soon after Russian President Vladimir Putin took to The New York Times to argue against military intervention in Syria.
Striking Syria would have many negative ramifications, Putin argued in the piece, including the killing of innocent people, spreading violence around the Middle East, clouding diplomatic efforts to address Iran's nuclear crisis and resolve the Israeli-Palestinian conflict and "unleash(ing) a new wave of terrorism."
Syria submits 'initial disclosure' of chemical weapons program
CNN's Phil Gast, Chelsea J. Carter, Dana Ford, Andrew Carey and Jim Sciutto contributed to this report.
Follow this link:
U.N. Security Council passes chemical weapons measure
The post U.N. Security Council passes chemical weapons measure appeared first on Arne Ruhnau News.
via Arne Ruhnau News http://arneruhnau.com/u-n-security-council-passes-chemical-weapons-measure/