STORY HIGHLIGHTS


Mohamed Morsy and 14 other Muslim Brotherhood members will stand trial next month


Morsy faces charges related to his alleged involvement in violence, state media reports


He has been kept in detention since the military removed him from office in July


The U.S. may announce it is cutting some military aid to Egypt, U.S. officials say









(CNN) — Ousted Egyptian President Mohamed Morsy is slated to stand trial starting on November 4 on charges of committing and inciting violence, state media said Wednesday.
Facing trial alongside him are 14 other members of the Muslim Brotherhood movement, state news agency MENA said.
Morsy, who is backed by the Brotherhood, will be tried at Egypt's Criminal Court on charges relating to his alleged involvement in violence that took place around the Ittihadiya Presidential Palace, the news agency said.
U.S. to cut some military aid to Egypt after coup, turmoil
Egypt's military forcibly removed Morsy from office in early July. He has been in detention since then, and a military-backed interim government has been in power.
In September, an Egyptian court banned all activities of the Muslim Brotherhood and froze its finances, drawing complaints from the international community.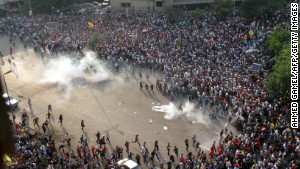 Could U.S. aid cuts change Egypt?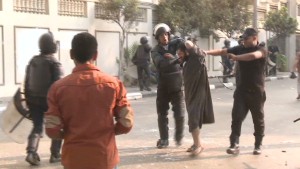 Cairo street protests turn deadly
The Brotherhood, an Islamist group that rose to power after the overthrow of Hosni Mubarak in 2011, has called for the reinstatement of Morsy's government.
Egypt has been in turmoil since Morsy's ouster, with the military and Morsy opponents battling Muslim Brotherhood members and others.
Read more: What is the Muslim Brotherhood?
In August, hundreds of people — citizens as well as members of security forces — were killed. Many of the deaths occurred when the military used force to clear two pro-Morsy sit-in sites in Cairo. Violence raged after Morsy supporters staged demonstrations a few days later.
Each side blames the other for stoking the violence.
The rise and rapid fall of Egypt's Mohamed Morsy
Morsy, who was backed by the Muslim Brotherhood's political arm, was the country's first democratically elected president.
But critics say he became increasingly authoritarian and forced through a conservative Islamist agenda during his year in power that alienated moderates. His ouster followed huge street protests calling for his removal.
Western nations, including the United States and Britain, have urged Egypt's temporary government to have an inclusive political process.
Egypt's interim foreign minister, Nabil Fahmy, told the U.N. General Assembly last month that the government is following a road map that will see nationwide elections by next spring.
U.S. military aid to be reduced?
The White House said Tuesday that the United States is preparing to announce a decision "in the coming days" on assistance to Egypt, and U.S. officials told CNN that military aid will be cut, though not all of it.
The Obama administration already withheld some military aid to Egypt in August, after the turmoil that followed Morsy's ouster.
Military aid that could continue includes funds to uphold Egypt's obligations under its peace treaty with Israel, and money for counterterrorism and security in Sinai, where extremists have been able to set up base, a senior U.S. official said. The United States will also maintain nonmilitary funding that helps promote democracy, the official said.
Any decision to cut aid would not preclude resuming the aid should Egypt take what the United States says are positive steps toward restoring democracy, officials said.
CNN senior international correspondent Ben Wedeman said that in the short term, the U.S. decision could have a positive impact for the interim Egyptian government.
"Immediately, probably, the Egyptian government is going to find it's going to gain somewhat in terms of local public opinion," he said. "There seems to be a lot of frustration with the United States, given its role in Egypt over the last 2½ years since the revolution."
CNN's Jim Sciutto and Elise Labott contributed to this report.
View article:
Egypt: Morsy trial date set amid unrest
The post Egypt: Morsy trial date set amid unrest appeared first on Arne Ruhnau News.
via Arne Ruhnau News http://arneruhnau.com/egypt-morsy-trial-date-set-amid-unrest/